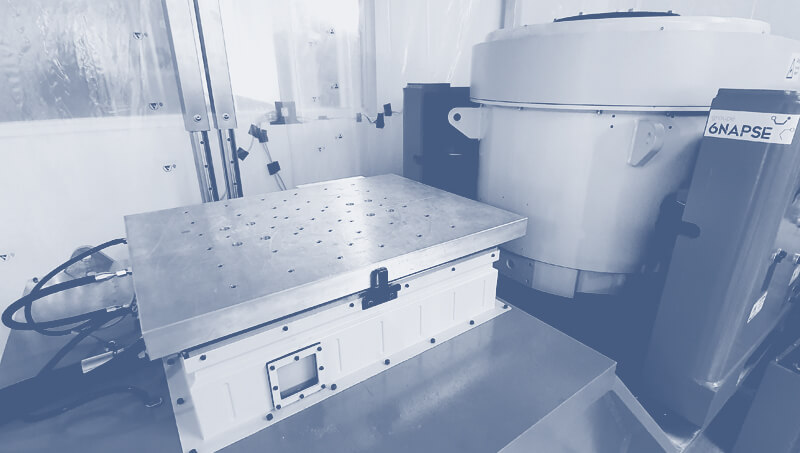 CEVAA offers its customers support in the understanding of vibration phenomena under vibration endurance tests.
At the 6NAPSE Group Test Center, we carry out vibration tests for the characterization or qualification of products according to specifications or standards (VITA 47; ISO 16750-3: 2012, etc.).
In addition, it is possible to combine these vibration tests with temperature cycles or under cleanliness class conditions.
En outre, il est possible de coupler ces essais vibratoires avec des cycles de températures ou dans des conditions de classe de propreté.
The CEVAA is called upon by a large number of sectors of activity to carry out tests on vibrators (Aeronautics, Space, Automotive, Rail, etc.).
In addition to this type of tests, the CEVAA is able to support its clients on related topics:
3d laser vibrometry measurements on product excited on vibrator
Virtual vibration qualification tests before physical testing on a vibrating pot
Customization of test (acceleration / severity of signals)
Power ranges
1kN: LDS V555
36kN: LDS V875LS – HBT600 table
60kN: LDS V8 – HBT600 table (ISO8 cleanliness class)
74kN: IMV A74 – VST900 table
89kN: LDS V964 – HBT1220 table (ISO8 cleanliness class)
125kN: IMV K125LS
ISO8 cleanliness class tents
Our vibrating pots are under laminar flow enclosure, allowing us to test in ISO8 cleanliness class (with lock to change, blouses, charlottes,…). In the tent, there are dedicated tools, dedicated sensors and cleaning equipment (isopropyl alcohol).
Methodologies
Sinus strategy
Random Strategy
Shock Strategy, SRC Calculation
Dwell Sinus Strategy
Synthesis of SRC
Time signal replication strategy
FOR MORE INFORMATION, CONTACT US TO DISCUSS TECHNICALLY ON YOUR NEEDS!