FROID : study of the vibro-acoustic behavior of an engine at temperature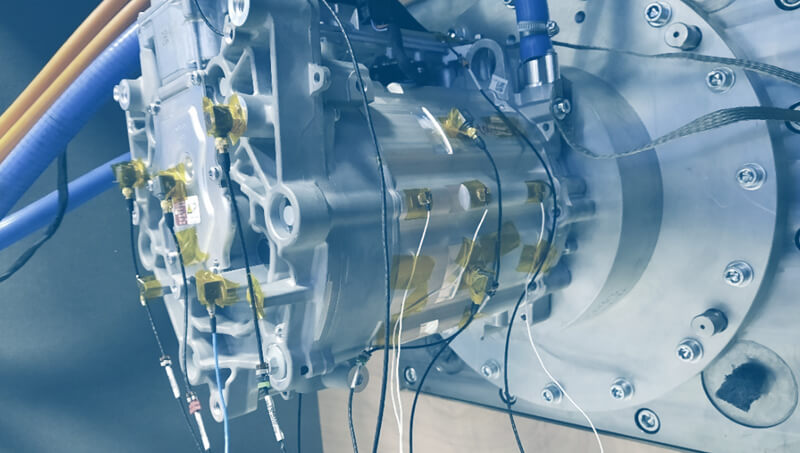 In order to support electric mobility, the FROID project aims to develop an e-NVH bench to optimize the vibro-acoustic performance of electric motors.
The collaborative R&D project supported and financed by Carnot ESP and carried out in partnership by CERTAM and CEVAA. The CEVAA studies the vibro-acoustic behavior of an engine in the event of a change in temperature. The engine tested and study support for the FROID project is that of the Peugeot e208.
The project is divided into two phases:
A test campaign phase at room temperature already carried out
A phase in cold temperatures
The two phases of the FROID project
 During the 1st research phase, the CEVAA equipped the e-motor bench with a custom-made semi-anechoic chamber. The box made it possible to make acoustic measurements aimed at determining the radiated acoustic power according to the ISO 3744 standard.
In addition to measuring the acoustic radiation of the engine, this device highlights the critical speed regimes for which it is possible to observe couplings between the engine orders (the excitations) and the resonance phenomena of the engine casing and the 'inverter.
The 2nd phase of the FROID Project involves carrying out a test campaign in negative temperatures. In this context, the CERTAM e-motor bench will be equipped with an air conditioning system. The analysis of its structural behavior will also be the subject of R&D development.
e-NVH bench and mobile vibro-acoustic measurement solutions
Following the success of the COLD Project and the creation of the e-NVH bench, the CEVAA now offers its customers:
Benefit from this e-NVH bench to conduct test campaigns on their engine in partnership with CERTAM
Deploy on industrial e-motor benches mobile vibro-acoustic measurement solutions (namely: semi-anechoic chamber, accelerometer, acoustic power measurement by microphone and measurement of operational deformations by 3D laser vibrometry)
Today, few means of vibro-acoustic characterization on electric motors exist in Europe. However, these tests are necessary for the improvement and optimization of electric motors and they represent a real challenge for manufacturers. The CEVAA can intervene throughout France and its European neighbours.
CEVAA supports its clients in the context of partnership research projects